Tribute: Mary Thomas Burke
Dr. Mary Thomas Burke (1928-2002)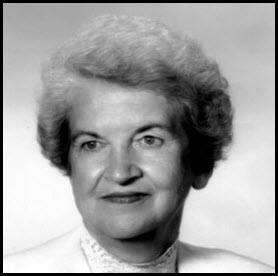 Sister Mary Thomas Burke was a central figure in the development of UNC Charlotte's Department of Counseling. She was born Annie Josephine Burke on November 28, 1928 in the seaport town of Westport in County Mayo, Ireland. When she was 17 years old, she planned to travel to Africa and begin studies to become a nun there, but a visit to her hometown by the Sisters of Mercy from Belmont, North Carolina drew her to the United States. She traveled from Ireland to New York by boat, then by train to Belmont in 1948.
Her studies began at Sacred Heart convent, followed by a bachelor's in sociology from Belmont Abbey College. She took her first vows of poverty, chastity, obedience and serving the needy in 1951 and her final vows three years later. She later received a master's degree from Georgetown University and a Ph.D. from UNC Chapel Hill.
Sister Mary Thomas' career at UNC Charlotte began in 1970, when she founded and chaired its Masters in counseling program, then later designed its Ph.D. program. She also spent more than 50 years working with drug addicts, AIDS patients, the impoverished, unwed pregnant teenagers, homeless mothers and abused women from the Charlotte area.
Sister Mary Thomas founded many organizations, including Open House, The Relatives and To Life. She was in leadership positions with the Metrolina AIDS Project and Catherine's House Out. Of all the numerous awards received over her lifetime, she was proudest of the prestigious Echo Foundation's "Echo Award Against Indifference," which was presented to her by Maya Angelou in 2002.
Additional Contributions of Dr. Mary Thomas Burke:
She was a teacher of children and young people from kindergarten through college in all major subject areas
She was a consultant to educators, businesses, government, public service agencies, and private organizations
She was a committed volunteer in dozens of organizations covering a broad scope of needs in the community
She sensitively ministered to those of all ages, both individuals and groups
She worked to unite the secular and non-secular as she taught each one to form more genuine relationships
She worked to build bridges between races and different faiths
She demonstrated the richness of life's alternatives to those whom her life touched
Sister Mary Thomas once said , "What I hope I am giving people is the confidence to believe in themselves."
The Mu Tau Beta chapter of Chi Sigma Iota was founded at UNC Charlotte in 1990 by Phyllis Post, Ph.D. The chapter was named in honor of Sister Mary Thomas Burke due to her work as a visionary and leader in counselor education.