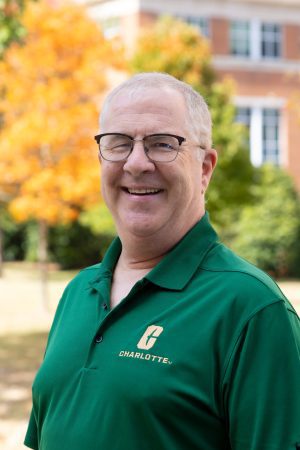 John R. Culbreth
Professor, Director of Addictions Program
Education
Ph.D. – University of North Carolina at Greensboro (1996)
M.A. – Appalachian State University (1986)
B.S. – Appalachian State University (1984)
John R. (Jack) Culbreth is a professor in the Department of Counseling at The University of North Carolina Charlotte. Jack's research and training interests are in the areas clinical supervision, ethical issues in counseling, and the development of new and experienced clinical supervisors. Jack's clinical experience includes work in treatment settings as a mental health counselor, chemical dependency treatment counselor, substance abuse prevention counselor, and in the school setting as a student assistance program coordinator and intervention counselor. In addition to his teaching, Jack maintains a small counseling and supervision private practice.
Jack is a Nationally Certified Counselor, Approved Clinical Supervisor, Master Addictions Counselor, and is recognized by the state of North Carolina as a Licensed Professional Counselor Supervisor, Licensed Chemical Addiction Specialist, and a Certified Clinical Supervisor. Jack is an active member in the American Counseling Association, the Association for Counselor Education and Supervision, and the International Association of Addiction and Offender Counseling. He serves on two journal editorial review boards, The Journal of Addiction and Offender Counseling and The Clinical Supervisor, and has been an ad hoc reviewer for The Journal of Counseling and Development and Counselor Education and Supervision.
Jack has published numerous research and conceptual articles in various professional publications and professional magazines. He is a co-author of the book Critical Incidents in Clinical Supervision, and a co-author of the book State of the Art in Clinical Supervision.
CACREP Consultation
Jack has worked as a consultant for numerous counselor education programs as they move toward CACREP accreditation. As a CACREP consultant, Jack helps program identify program areas that need to be changed for accreditation, reviews self-study documents, and conducts mock site team visits to help programs prepare for on-site visits in the accreditation process. Prior to beginning this work, Jack was a member of the CACREP Board of Directors from 2002-2008, and served as the Chair of the Board from 2005-2008. In this leadership role, Jack was very involved in the development of the 2009 standards. Currently, Jack works as a CACREP site team member and team chair for accreditation visits, typically 1-2 per year.
Area(s) of Interest and Research
Clinical Supervision, Substance Abuse Counseling, International Counselor Education, and Counselor Training

Curriculum Vitae